In which Atropos is excessively diverted
I was wandering around the internet earlier looking at the various free knitting patterns on offer and came across something that made me laugh like an idiot. So much so, I thought I'd share.

(Apologies to all non-Potter knitters who will have absolutely NO IDEA what I am about to go on about, but trust me - this is funny.)

I present to you ..... the perfect yarn for all your Harry Potter knitting needs: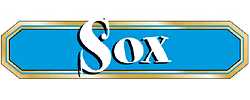 I kid you not. It's made by Bernat and comes in some quite interesting colours. This is probably the part where you say "Yes, Atropos, we know all about that. SOX yarn is on the shelf of every yarn shop in the US" but really I don't care. I'm still highly amused by it.

Just so this post has some actual content, can I recommend that you check out www.bernat.com if you haven't done so already. If you join as a member (which takes 30 secs and is free) you get access to a good range of free patterns, including one for stripy SOX which I think I am going to adapt to make Mr A's 'Denis the Menace' pair when they reach the top of the craft queue.