In which Atropos discovers that there is no such thing as Too Much Yarn
Bah - this post is full of pictures with poor colour reproduction because I took them under artificial light. But you know what? I'm going to post it anyway as something Very Exciting happened to me today.

Do you remember that parcel from Apple Laine in Canada that I casually mentioned on my LJ a month or so ago?

It arrived today!




And look what was in it. So much yarn that I felt like spreading it out all over the floor and rolling in it. But as I said to Mr A, if you're going to send off over 5,000 miles for yarn there's no point in placing a small order, right? And you might as well order some lovely yarns that it's pretty much impossible to get in this country.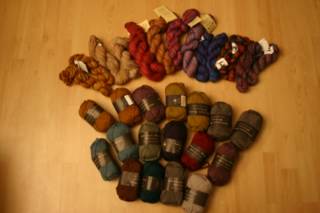 So, what exactly have I got? First up, four skeins of Apple Laine's own Apple Butter. Each skein is enough to make a pair of adult socks, and that is what they are destined for, but sadly not all for me. The plan is to make this yarn earn its keep by providing Christmas presents for various members of the family.

This yarn is 65% wool, 25% mohair and 15% nylon, which makes it wonderfully soft and the colours are fantasically vivid. I think I should get to keep one pair of socks made out of this haul, don't you? I'm currently veering towards the amazing red on the right.




Then, 10 skeins of the fabled Koigu PPPM. I was beginning to think that, like the yeti, this yarn was actually a figment of other knitters' imagination given the amount of trouble I have had actually getting hold of some. But no - there are ten skeins currently sat on my lounge floor looking up at me. And they are lovely. I couldn't get anywhere near the amazing colour painting on this yarn in artificial light so I have settled for a close up of just one of the colours. Yum - it reminds me of blackberry crumble. Again, this is destined for Christmas socks. I will be Queen of Socks by the time I have finished with this stuff.




And finally, 17 balls of Mission Falls 1824 merino wool in a range of earthy, natural colours, which I will be stashing away to make the Glenora Throw all for myself. There are all kinds of other really nice things in that pattern book too. I can see that I am going to be tempted to buy more of this stuff. But maybe not for a while.



Mission Falls



So that's it. My stash runneth over. I must get back to my needles and actually do some knitting before it takes on a life of its own and overruns the house.